- Halmstad - Varberg
- 3 days
- selfguided tour
- daily distances 14 - 45 km
- flat cycling
- well marked cycle route on bicycle
paths, side roads with less traffic and some
gravel roads
- good for your well being, good for your
health, good for the environment and with
plenty of treats!
Weekend all days!? Well during vacation time that can be the feeling. So therefore we offer starting days all days!

A cycling tour that takes you through the coastal small towns, Halmstad, Falkenberg and Varberg - the most popular part of Kattegattleden Halland.

This tour, with salty breeze in the air and sandy beaches, follows the most popular part of county Halland - the coast line.
- Accommodations with good standard at high class hotels.
- Your luggage will be taken care of and will be waiting for you, when you arrive to your accommodation for the night.
- The experiences are all lined up along the route - charming cafés and restaurants, small villages, ports, handicraft, farm shops and much more!

Please note that some smaller parts of the distance remains to be fixed and follows roads with a bit more traffic.
The cycle tour day by day
Additional night
Halmstad
Stay an extra night before start and experience the small town Halmstad. Have a good night´s sleep at a hotel near the center and the train station and prepair for tomorrow´s adventure.
See "additional services" to the right.

Day 1
Halmstad - Falkenberg, approx. 57 km
On your way north you will pass Tylösand, one of Sweden´s most well known beaches, coastal moorland, shore meadows combined with cliffs and small sandy beaches. Accommodation in a charming hotel in the center of Falkenberg, situated by the river Ätran, famous for its salmon fishing.

Day 2
Falkenberg - Varberg, approx. 45 km
You ride on small side roads passing fishing villages, shore meadows and sandy beaches, as Apelviken a popular place for surfers, all year round.
Accommodation in a top class hotel situated in the middle of the town with free access to their relax area. If you want to take extra care of your body after your cycling tour you can book treatments in the Asia Spa, directly at the hotel.

Day 3
Varberg
As your hotel is right in the centre of Varberg it is easy to experience the town by foot. Don´t forget to visit Varberg´s fortress, with its oldest part from the 13th century. There are many small shops, a marketplace and lots of small cafés and restaurants.

Do you need an extra night in Varberg? See "additional services" to the right..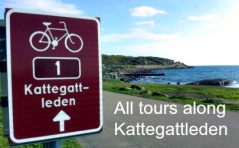 * 2 Overnight stays with breakfast
in double room at high class hotels
* Luggage transport between the
accommodations, 2 days
(1 bag/20 kg/person).
* Maps with route description day by
day and information about cafés,
restaurants and places to visit along the route (one set per room).
* GPX files available for GPS or smartphone.
* Hotline - for service/questions.

Reservation for minor modifications that will be informed in advance.
Starting days of the tour
All days
May 7 - September 17
Prices 2022
- per person in double room
Period 1 (low season): SEK 3 090:-
Period 2 (high season): SEK 3 790:-

Period 1: May 7 - June 10
and August 15 - September 17
Period 2: June 11 - August 14

Discounts for children
Up to 5 years in parents bed: 85 %.
6 - 12 years, extra bed in parents room: 50 %. (Luggage transport for children is not included in the price)
Additional services 2022
- all prices per person
Single supplement:
Period 1 och 2: SEK 1 100:-

Half board, 1 day
2-course dinners, excl. drinks, day 2, total cost pp: SEK 400:-.
Childrens meal can be ordered and paid for at the restaurants.

Additional night in Halmstad, incl. breakfast, in double room: SEK 800:-

Additional night in Varberg, incl. breakfast, in double room: SEK 850:-

******************
Bike rental including bike transport,
2 days, day 1 - 2.
Note that the prices for the bike rental includes transporting the bikes back to Halmstad. You don´t cycle the same distance twice - new day trips with new experiences every day!

Touring bike, 18 gears, including bike transport: SEK 750:-
Electric bike, including bike transport: SEK 1 090:-
City bike, including bike transport:
SEK 700:-
Children´s bike, please contact us for prices
Pannier (single side): SEK 100:-

*****************'
Cancellation fee: SEK 300:- per person. See information, "Book".
Maps and information will be sent to you after final payment, in good time before your arrival. Read more, "Book", booking/terms and conditions.