Kattegattleden
GRAND TOUR 5 days
- Helsingborg - Gothenburg
- 5 days
- self guided tour
- daily distances 62-97 km
- flat to slightly hilly cycling
- well marked cycle route on
bicycle paths, side roads with
less traffic and some gravel roads
- good for your well being, good for your
health, good for the environment and with
plenty of treats!
Experience the beautiful Kattegatt-
leden while riding a bit longer day trips.

We have done our best to set you up for a memorable cycling holiday in South West Sweden.
- Accommodations in 3.5 - 4-star hotels.
- Your luggage will be taken care of and will be waiting for you, when you arrive to your accommodation for the night.
- The experiences are all lined up along the route - charming cafés and restaurants, fishing villages, ports, handicraft, farm shops, castles, vineyards and much more!

Please note that some smaller parts of the distance remains to be fixed and follows roads with a bit more traffic.
The cycle tour day by day
Additional night
Helsingborg
If arriving one day in advance, why not experience Helsingborg, have a good night sleep in a comfortable bed and be prepared for the tour next day? And maybe take the ferry, 20 minutes, to Helsingør, one of Denmark´s charming coastal towns. See "additional services" to the right.

Day 1
Helsingborg - Ängelholm, approx. 62 km
Arrival. With the view of Denmark in the west you start your cycling north, very close to the water, Öresund. You follow the route at the peninsula, Kullahalvön, along the bay of Skälderviken, passing charming, prosperous coastal villages and the town Höganäs, famous for its salt-glazed ceramics. Accommodation in a new top class hotel in the charming, small town Ängelholm with free access to relax, spa and pools.

Day 2
Ängelholm - Halmstad, approx. 97 km
Today you cross another of county Skånes popular peninsulas, Bjärehalvön and follow the route to Båstad, the summer village wellknown for its international tennis tournament The Swedish Open. After crossing into county Halland, you will travel further along one of Sweden's longest sandy beaches and through the Skummeslövstrand and Mellbystrand swimming areas. Accommodation in a nice well known full service hotel nearby the train station in Halmstad.

Day 3
Halmstad - Varberg, approx. 97 km
After leaving Halmstad you will pass Tylösand, one of Sweden´s most well known beaches. Further north you will find coastal moorland, shore meadows combined with cliffs and small sandy beaches. You ride on small side roads passing the town Falkenberg, fishing villages and, just before you arrive to Varberg, the beach Apelviken a popular place for surfers, all year round.
Accommodation in a top class hotel
situated in the middle of the town with free access to their relaxarea. If you want to take extra care of your body after your cycling tour you can book treatments and access to the Asia Spa, directly at the hotel.

Day 4
Varberg - Kungsbacka, approx. 76 km
You follow Kattegattleden north passing one of Northern Europe´s finest bird sites and small fishing villages. You will cycle through the countryside to Kungsbacka passing some exciting tourist attractions on the way. Like Tjolöholm´s castle and Fjärås bräcka´s unique environment from the Iron Age.
Accommodation at a nice hotel in the center of Kungsbacka.

Day 5
Kungsbacka - Gothenburg, approx.
63 alt. 45 km
From Kungsbacka you cycle along the peninsula, Säröhalvön which has an exciting maritime history. Then you will approach Gothenburg, the second largest town in Sweden with epithets like "New Amsterdam" and "Little London". (You can also choose a short cut if you want to arrive earlier to Gothenburg.)

Additional night
Gothenburg
The tour ends here after arrival to Gothenburg, but why not stay an extra night? Take the chance to visit the amusement park, Liseberg, do some shopping or just rest your legs on a boat trip on the canals.
Do you need an extra night in Gothenburg? See "additional services" to the right.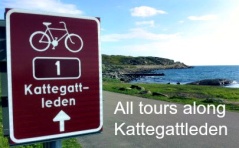 * 4 Overnight stays with breakfast
in double room at 3.5 - 4 star hotels.
* Luggage transport between all the accommodations, 5 days
(1 bag/20 kg/person).
* Maps with route description day by day and information about cafés, restaurants and places to visit along the route (one set per room).
* GPX files available for GPS or smartphone.
* Hotline - for service/questions.

Reservation for minor modifications that will be informed in advance.
Starting days of the tour
All days
May 6 - September 16
Prices 2023
- per person in double room
Period 1 (low season): SEK 5 890:-
Period 2 (high season): SEK 6 690:-

Period 1: Start May 6 - June 18
and August 21 - September 16
Period 2: Start June 19 - August 20

Discounts for children
Up to 5 years in parents bed: 85 %.
6 - 12 years, extra bed in parents room: 50 %. (Luggage transport for children is not included in the price)
Additional services 2023
- all prices per person
Single supplement:
Period 1: SEK 1 690:-
Period 2: SEK 1 990:-

Half board, 4 days
2-course dinners, excl. drinks, day 1, 2, 3 and 4: SEK 1 710:-.
Childrens meal can be ordered and paid for at the restaurants.

Additional night in Helsingborg, incl. breakfast, before start:
in double room: SEK 825:-

Additional night in Gothenburg, incl. breakfast, after ending tour:
in double room: SEK 850:-

******************
Bike rental, including transport,
5 days, day 1 - 5.
Note that the prices for the bike rental includes transporting the bikes back to Helsingborg. You don´t cycle the same distance twice - new day trips with new experiences every day!

Touring bike, 18-27 gears, including bike transport: SEK 1 430:-
Electric bike, including bike transport: SEK 2 530:-
Children´s bike, including bike transport: Please contact us for prices.
Pannier (single side): SEK 100:-

*****************
Cancellation fee, SEK 300:- per person. See information, "Book".
Maps and information will be sent to you after final payment, in good time before your arrival. Read more "Book", booking/terms and conditions.
The tour starts in Helsingborg and ends in Gothenburg. If you have your car parked in Helsingborg, it is easy to go back by train or bus in Skåne and bus in Halland and when your cycle trip ends. If you arrive by train the train stations in both Helsingborg and Gothenburg are located in the centre.

Helsingborg is very easy to reach from Copenhagen, Denmark. Just over one hour with the train directly from Copenhagen Airport.

It is also possible to book your personal transport from Gothenburg back to Helsingborg. Please contact us for further information.