- Halmstad - Helsingborg
- 4 days
- self guided tour
- daily distances 35 - 49 km
- flat to slightly hilly cycling
- well marked cycle route on
bicycle paths, side roads with
less traffic and some gravel roads
- good for your well being, good for your
health, good for the environment and with
plenty of treats!
For cycling at slower pace with plenty of time for relaxing stops and experiences during the tour.

We have done our best to set you up for a memorable cycling holiday in the Skåne region in South West Sweden.
- An exciting variety of accommodations with good standard
- Your luggage will be taken care of and will be waiting for you, when you arrive to your accommodation for the night.
- Charming cafés and restaurants, fishing villages, picturesque harbours, handicraft, farm shops, castles, vineyards and much more - they are all lined up along the route!
The cycle tour day by day
Additional night
Halmstad
Why not arrive one day earlier and have a good night´s sleep in a comfortable bed and be prepared for the tour next day?
See "additional services" to the right.

Day 1
Halmstad - Båstad, approx. 41 km
You start in the town, Halmstad in county Halland and follow the coast southward along one of the longest sandy beaches in Sweden, passing through Skummeslövsstrands and Mellbystrands swimming areas. Your accommodation will be in a nice pension in the summer resort Båstad in county Skåne. Båstad is well known for its international tennis tournament.

Day 2
Båstad - Vejbystrand, approx. 49 km
Todays tour starts with a quite hilly, but also quite short, distance to the Bjäre peninsula. You will be quickly rewarded with downhill distances to the well known summer resort Torekov. After Torekov you follow the coast further along to the south and your accommodation in a newly renovated and cosy hostel near the ocean.

Day 3
Vejbystrand - Arild, approx. 36 km
You follow the route through the bay of Skälderviken to the Kulla peninsula, passing the small 500-year-old town, Ängelholm. Accommodation in a small vineyard in Arild.

Day 4
Arild - Helsingborg, approx. 35 km
You continue your cycle tour further south, close, close to the water, Öresund. With Denmark on the other side of the sea you will be passing charming, prosperous coastal villages and the town Höganäs, famous for its salt-glazed ceramics. The cycle tour ends in Helsingborg.

You can also book an extra night in Helsingborg to discover the area and maybe take the ferry, only 20 minutes, for a visit in Helsingör, Denmark. It only takes 20 minutes. See "additional services" to the right.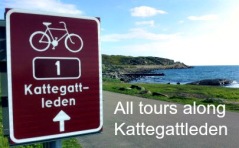 * 3 Overnight stays with breakfast in
double room, 1 night at a vineyard,
1 night in a cosy, charming hostel
(a sink/wash basin in the room, shower
and toilet outside the door) and 1
night in a nice pension (sheets, towels
and cleaning service are included in
every stay).
* Luggage transport between all the
accommodations, 4 days,
(1 bag/20 kg/person).
* Maps with route description day by
day and information about cafés,
restaurants and places to visit along
the route (one set per room).
* GPX files available for GPS or smartphone.
* Hotline - for service/questions.

Reservation for minor modifications that will be informed in advance.
Starting days of the tour
All days
May 6 - September 16
Prices 2023
- per person in double room
Period 1 (low season): SEK 4 990:-
Period 2 (high season): SEK 5 390:-

Period 1: May 6 - June 18
and August 21 - September 16
Period 2: June 19 - August 20.

Discounts for children
Up to 5 years in parents bed: 85 %.
6 - 12 years, extra bed in parents room: 50 %. (Luggage transport for children is not included in the price)
Additional services 2023
- all prices per person
Single supplement additional:
SEK 1 550:-

Additional night in Halmstad, incl. breakfast:
- in double room: SEK 825:-

Additional night in Helsingborg, incl. breakfast:
- in double room: SEK 850:-

******************
Bike rental, including transport,
4 days, day 1 - 4.
Note that the prices for the bike rental includes transporting the bikes back to Halmstad. You don´t cycle the same distance twice - new day trips with new experiences every day!

Touring bike, 18-27 gears, including bike transport: SEK 1 100:-
Electric bike, including bike transport: SEK 1 980:-
City bike, 7 gears (footbrake), including bike transport: SEK 1 100:-
Children´s bike: please contact us for prices
Pannier (single side): SEK 100:-

*****************'
Cancellation fee, SEK 300:- per person. See information, "Book".
Maps and information will be sent to you after final payment, in good time before your arrival. See more "Book", booking/terms and conditions.