Kattegattleden
GRAND TOUR, 11days /2017
Kattegattleden runs along the Swedish West Coast from Helsingborg in the south to Gothenburg in the north. Very near and easy to reach from Copenhagen!
Do you want to cycle the whole tour? Do you want to cycle in your own pace without feeling any pressure?

Then this is the tour for you!
11-days salty cycling holiday where we have picked the finest selection of what Southwest Sweden has to offer. Our passion is to offer you varied accommodations, all with good standard - from two of the most charming small hostels to "glitz and glamour" at top class hotels. Several of the accommodations offer free access to spa, gym or pools. Which could be extra appreciated after a day on the bicycle saddle!

We take care of your luggage and ensure, that it will be waiting for you when you arrive to the different accommodations.

The experiences are all lined up along the route - charming cafés and restaurants, fishing villages, ports, handicraft, farm shops, castles, vineyards and much more!

Good for your well being and your health, good for the environment and with plenty of treats.
You cycle, as close to the coast as possible, through Skåne county's wellknown and beautiful peninsulas, Kullahalvön and Bjärehalvön and along Halland county's sandy beaches and small, charming coastal towns, Halmstad, Falkenberg and Varberg and Kungsbacka. You finish your tour in Gothenburg, the second largest town in Sweden with epithets like "New Amsterdam and "Little London". 11 days, 10 overnight stays.
The cycle tour day by day
Additional night
Helsingborg
Maybe you like to arrive one day in advance, experience Helsingborg, have a good nights sleep and be prepared for your start next day? You can also take the ferry, 20 minutes, to Helsingør, one of Denmarks charming coastal towns. Additional night in a very centrally top class hotel.
See "additional services" to the right.

Day 1
Helsingborg - Arild, approx. 35 km
Arrival. If you are renting bikes, you collect them in the center of the town.With the view of Denmark in the west you start your cycling north, close, close to the water, Öresund, passing charming, prosperous coastal villages and the town Höganäs, famous for its salt-glazed ceramics. Accommodation in a top class hotel with wonderful sea view in a small village. Free access to relaxing room.

Day 2
Arild - Vejbystrand, approx. 36 km
You follow the route through the bay of Skälderviken passing the town Ängelholm. Accommodation in a charming and colorful hostel also close to the sea.

Day 3
Vejbystrand - Båstad, approx. 35 km
Today you cross the Bjäre peninsula and follow Kattegattleden to Båstad, the summer village wellknown for its tennis tournaments.
Accommodation in a top class hotel close to the sea with free access to swimming pool and gym.

Day 4
Båstad - Halmstad, approx. 35 km
The tour follows the northern coastline through pine forests and along sandy beaches to the town, Halmstad.
Accommodation in a top class hotel in Halmstad.

Day 5
Halmstad - Steninge, approx. 25-35 km
Today you can choose between cycling on the scenic "Prince Bertil´s path" even closer to the sea (35 km) or strictly follow the signs for Kattegattleden (25 km). On your way to Steninge you will pass Tylösand, one of Swedens most well known beaches. Accommodation in Steninge, a small village, in a picturesquely and charming hostel with a wonderful garden with sea view, outdoor gym and sauna.

Day 6
Steninge - Falkenberg, approx. 28 km
On your way north you pass nature reserves, coastal moorland and shore meadows combined with cliffs and small sandy beaches for a final stop in town Falkenberg.
Accommodation in a top class beach hotel, situated right at the beach, Skrea Strand. Free access to a large indoor swimming pool and to their spa relax (starting June 2017).

Day 7
Falkenberg - Varberg, approx. 45 km
You ride on small side roads passing fishing villages, shore meadows and sandy beaches, as Apelviken a popular place for surfers, all year round.
Accommodation in a top class hotel centrally situated at the market place with free access to the relax room.(Alternative an apartment at a summer resort just outside the town).

Day 8
Varberg - Åsa, approx. 48 km
You follow Kattegattleden north passing one of Northern Europe´s finest birdsites and small fishing villages. Accommodation at a Bed & Breakfast in Åsa, a small village south of the town Kungsbacka.

Day 9
Åsa - Onsala/Gottskär, approx. 37 km
Today you cycle through the countryside to Kungsbacka passing some exciting tourist attractions on the way. Like Tjolöholms castle and Fjärås bräckas unique environment from the Iron Age. From Kungsbacka you cycle to your overnight stay at the peninsula, Onsalahalvön. Accommodation in a nice hotel near the sea.

Day 10
Onsala/Gottskär - Särö, approx. 27 km
You follow the tour to the north part of the peninsula Onsalahalvön. Accommodation in a top class hotel with a wonderful sea view and with free access to their spa.

Day 11
Särö - Göteborg, approx. 32 km
The length of your last day trip allows you to experience the second largest town in Sweden, Gothenburg. The tour ends here after arrival to Gothenburg, but why not stay an extra night? Take the chanse to visit the amusementpark, Liseberg, do some shopping or just rest your legs on a boat trip on the canals.

Additional night (day 11)
Gothenburg
See "additional services" to the right.
The route follows Kattegattleden on bicycle paths or side roads with little traffic. A bicycle friendly landscape without inconvinient hills with a small exception on day 3 wich offers a bit more hilly landscape.
Please note that some smaller parts of the distance remains to be fixed and follows roads with a bit more traffic.
Do you want to cycle a shorter part of Kattegattleden?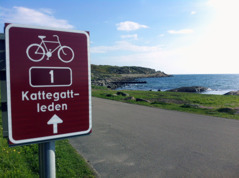 About Kattegattleden
- Sweden´s first national bicycle route, 370 km long, opened and was signed with "no 1" in 2015. A cycle route, almost car-free, close to the ocean, that offers unique scenic and cultural experiences along the route. You will also be exposed to a varied environment as the route passes both countryside and small coastal towns on its way.