All-inclusive biking tours
on the Swedish west coast
If you enjoy cycling holidays you have come to the right place. Gyllene Turer on Sweden's west coast offers all-inclusive cycling tours including food, accommodation, bike rental and luggage transport. You'll save time, allowing you to make the most of your tour and take in the surroundings. And it will do wonders for your physical well-being!
Just make your way to Halland - we will do the rest.
Looking for an active cycling holiday that offers new experiences while keeping things simple and convenient? Just make your way to the places for arrival – Gyllene Turer will do the rest. And it is easy to get here, either you arrive by car, railway or airplane,

We make the planning, rent out bikes, transport your luggage, book accomodations and dinners, let you know about the best places to visit and give you the maps to find the way. Gyllene Turer also provides a travel guarantee. Choose the package that will suit you best. Welcome!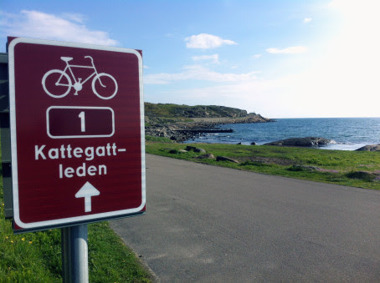 KATTEGATTLEDEN - Swedens first national tourist cycle route opened 2015.

Kattegattleden runs along the Swedish West Coast from Helsingborg in the south to Gothenburg in the north. Near and easy to reach from Copenhagen! Self-guided tour.

In 2017 we can offer you two different tours for the whole route that takes you from Helsingborg to Gothenburg, 370 km. Two routes with different lengths of the day trips.

If you want to cycle just a part of Kattegattleden you can choose between three different tours.

About Kattegattleden
- Sweden´s first national bicycle route, 370 km long, opened and was signed with "no 1" in 2015. A cycle route, almost car-free, close to the ocean, that offers unique scenic and cultural experiences along the route. You will also be exposed to a varied environment as the route passes both countryside and small coastal towns on its way.

Cycling tours and prices