- Falkenberg - countryside Varberg -
Falkenberg
- self guided tour
- 3 days
Do you want to experience both coast and countryside? The first day you cycle through the coastal landscape with coastal meadows, moorland and fabulous beaches, that will tempt you to stop and take a salty swim.

The next day the tour takes you through peaceful rural inland, with its bustling little villages, farms and undulation fields of corn.

During the whole tour you will experience a lot of hidden gems, strung out like beads on a necklace. You can cycle at your own pace, with plenty of time to stop off along the way.

Accommodation in two of Hallands most genuin and charming hostels/bed & breakfasts - in our opinion!
When possible the route follows bicycle paths or side roads with little traffic. Some shorter parts of the distance follows however roads with a bit more traffic.
The "String of pearls" day by day
Day 1
Falkenberg - Steninge, approx. 31 km
You follow Kattegattleden southwards along one of the most beautiful parts of Hallands coast. On your way you pass coastal moorland, shore meadows and small sandy beaches.
Accommodation in a very charming hostel with a nice garden with ocean view of Kattegatt and with outdoor gym and sauna to hire.

Day 2
Steninge - Slöinge, approx. 30 km
Breakfast with homemade bread at the hostel. The cycle tour takes you a short distance further southwards along the coast and then to the peaceful rural inland, with its bustling little villages, farmhouses and undulating fields of corn. Accommodation and dinner in a charming Bed & Breakfast in an old building with a scenic location and a pool in the garden.

Day 3
Slöinge - Falkenberg, approx. 30 km
Breakfast with mostly local ingredients at the accommodation.
Today the cycle tour takes you back to Falkenberg. An inland tour where you pass cultural heritage sites. Picnic lunch from Berte for the road. The tour ends in Falkenberg.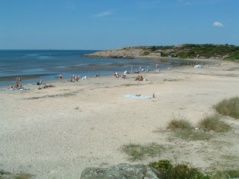 * 2 Overnight stays at two of Hallands
most charming hostels and
Bed&Breakfasts. (Note that toilet and
shower are outside the room and will
be shared with other guests.)
* Sheets, towels and cleaning
service
* 2 Breakfast
* 1 Homemade dinner, drink not incl.,
day 2.
* Picnic lunch, day 3
* Maps with route description day by
day and information about cafés,
restaurants and places to visit along
the route.
* Gyllene Turers own cycle routes
rovide the best cycling experience.

Reservation for minor modifikations that will be informed in advance.
Start days of the tour (day 1)
Wednesdays or Fridays
May 2 - September 28
Prices 2018
- per person in double room
Period 1 (low season): SEK 2 390:-.
Period 2 (high season): SEK 2 690:-

******************
Period 1: Start day,
May 2 - June 15 and
August 8 - September 28
Period 2: Start day June 20 - August 3

******************
Discount children
- no dinner included, will be ordered and paid for at the different accommodations.
0 - 5 years in parents bed: 85 %.
6 - 12 years in extra bed in parents room: 70 %.
Additional services
- all prices per person
Single room:
Period 1 och 2: SEK 500:-

******************
Additional night in Falkenberg, incl. breakfast, day before start or after ending tour:
in double room: SEK 895:-
in single room: SEK 940:-

******************
Bike rental, 3 days, day 1-3, including bike transport
Note that this cycle tour is including bike transport as there is no bike rental in Falkenberg.
Touring bike, 18 gears: SEK 775:-
Electric bike: SEK 1 040:-
City bike, 3 or 7 gears and children´s bike, including bike transport: Please contact us for prices.

******************
Luggage transport, please contact us for prices.

*****************'
Cancellation fee, see information, "Book": SEK 300:-.
Maps and information will be sent to you after final payment, in good time before your arrival. See more, "Book".
Transport / transportation