- Helsingborg - Båstad
- 5 days
- self guided tour
- daily distances 23 - 35 km
- flat to slightly hilly cycling
- well marked cycle route on
bicycle paths, side roads with
less traffic and some gravel roads
- good for your well being, good for your
health, good for the environment and with
plenty of treats!
For cycling at slower pace with plenty of time for relaxing stops and experiences during the tour.

We have done our best to set you up for a memorable cycling holiday in the Skåne region in South West Sweden.
- An exciting variety of accommodations with good standard
- Your luggage will be taken care of and will be waiting for you, when you arrive to your accommodation for the night.
- Charming cafés and restaurants, fishing villages, picturesque harbours, handicraft, farm shops, castles, vineyards and much more - they are all lined up along the route!
The cycle tour day by day
Additional night
Helsingborg
If arriving one day in advance - have a good night sleep in a comfortable bed and be prepared for the tour next day. And maybe take the ferry (20 minutes) to Helsingør, one of Denmarks
charming coastal towns.
See "additional services" to the right.

Day 1, Thursday
Helsingborg - Arild, approx. 35 km
With the view of Denmark in the west you start your cycling north, close, close to the water, Öresund, passing charming, prosperous coastal villages and the town Höganäs, famous for its salt-glazed ceramics. Accommodation in a hotel with wonderful sea view in one of the small villages. Free access to the spa area.

Day 2, Friday
Arild - Vejbystrand, approx. 36 km
You follow the route through the bay of Skälderviken passing the 500-year-old town, Ängelholm. Accommodation in a newly renovated and cosy hostel just 500 m away from the sea and from beautiful beaches.

Day 3, Saturday
Vejbystrand - Torekov/Hovs Hallar, approx. 23 km/29 km
From Vejbystrand you cycle northward along the coast to Torekov/Hovs Hallar,
genuin and popular summer resorts since long. The short day trip allows you to enjoy the surroundings, maybe take a swim in the ocean or embark the small boat for a short trip to the island, Hallands Väderö, a nature reserve with unique natural and cultural values.
Accommodation in a full service hotel near the ocean.

Day 4, Sunday
Torekov/Hovs Hallar - Båstad, approx. 26 km/20 km
Today you cross over the Bjäre peninsula which takes you to Båstad, the summer village wellknown for its international tennis tournaments.
Accommodation in a nice pension in Båstad.

Day 5, Monday
The tour ends day 5. Spend the day on the beach or take a cycle tour in
Båstads surrounding.

Do you need an extra night in Båstad? See "additional services" to the right.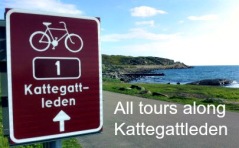 * 4 Overnight stays with breakfast in
double room. 2 nights at 4-stars hotel
and 1 night in a cosy, charming hostel
(a sink/wash basin in the room, shower
and toilet just outside the door) and 1
night in a nice pension (sheets, towels
and cleaning service included in every
stay).
* Luggage transport between all the
accommodations, 4 days,
(1 bag/20 kg/person).
* Maps with route description day by
day and information about cafés,
restaurants and places to visit along
the route.
* GPX files available for GPS or smartphone.
* Hotline - for service/questions.

Reservation for minor modifications that will be informed in advance.
Start day of the tour (day 1)
Thursdays
May 16 - September 26
Prices 2019
- per person in double room
Period 1 (low season): SEK 5 490:-
Period 2 (high season): SEK 5 890:-

Period 1: Start May 16 - June 13,
August 22 - September 26
Period 2: Start June 20 - August 15

Discounts for children
Up to 5 years in parents bed: 85 %.
6 - 12 years, extra bed in parents room: 50 %. (Luggage transport for children is not included in the price)
Additional services
- all prices per person
Single supplement:
Period 1 and 2: SEK 1 800:-

Half board, 3 days
2-course dinners, excl. drinks,
day 1, 3 and 4: SEK 975:-.
Childrens meal can be ordered and paid for at the restaurants.

Additional night in Helsingborg, incl. breakfast, Wednesday before start:
- in double room: SEK 725:-

Additional night in Båstad, incl. breakfast, Monday after ending tour:
- in double room: SEK 700:-

******************
Bike rental, including transport,
5 days, day 1 - 5.
Note that the prices for the bike rental includes transporting the bikes back to Helsingborg. You don´t cycle the same distance twice - new day trips with new experiences every day!

Touring bike, 24 gears, including bike transport: SEK 925:-
Electric bike, including bike transport: SEK 1 275:-
City bike, 3 or 7 gears and children´s bike, including bike transport: Please contact us for prices.

*****************'
Cancellation fee, SEK 300:- per person. See information, "Book".
Maps and information will be sent to you after final payment, in good time before your arrival. See more "Book", booking/terms and conditions.