The Golden Tour - SKÅNE /2017
Helsingborg - Båstad, 5 days
An all inclusive 5-day cycling holiday where we have picked out the finest selection of what Region Skåne in Southwest Sweden has to offer, when it comes to accommodation combined with a beautiful cycle route. Good for your well being, good for the environment and with plenty of treats.

An exciting variety of the best accommodations with excellent standards - top class hotels close to the beach with swimmingpool and one night in a charming hostel - all close to the beach.

Charming cafés and restaurants, fishing villages, picturesque harbours, handicraft, farm shops, castles, vineyards and much more - they are all lined up along the route!
You cycle the south part of the national cycle route, Kattegattleden, from Helsingborg to Båstad as close to the coast as possible, through Region Skåne´s beautiful peninsulas, Kullahalvön and Bjärehalvön. Your tour finishes just north of Båstad. 5 days, 4 overnight stays.
The cycle tour day by day
Additional night
Helsingborg
Are you arriving early - why not take the ferry, 20 minutes, to Helsingør, one of Denmarks charming coastal towns?
Accommodation in a very centrally top class hotel.
See "additional services" to the right.

Day 1
Helsingborg - Arild, approx. 35 km
If you are renting bikes, you collect them in the center of the town. With the view of Denmark in the west you start your cycling north, close, close to the water, Öresund, passing charming, prosperous coastal villages and the town Höganäs, famous for its salt-glazed ceramics.
Accommodation and dinner in a top class hotel with wonderful sea view in one of the small villages.

Day 2
Arild - Vejbystrand, approx. 36 km
You follow the route through the bay of Skälderviken passing the 500-year-old town, Ängelholm.
Accommodation in a newly renovated and cosy hostel just 500 m away from the sea and from beautiful beaches. This evening you choose your dinner place yourself from the restaurants nearby.

Day 3
Vejbystrand - Torekov, approx. 23 km
From Vejbystrand you cycle northward along the coast for a small detour to Torekov, furthest away on the Bjäre peninsula. From Torekov you can take an old fishing boat to the island,
Hallands Väderö, a nature reserve with unique natural and cultural values.
Accommodation and dinner in a top class hotel also close to the sea, with free access to their spa.

Day 4
Torekov - Båstad, approx. 26 km
Today you cross over the Bjäre peninsula and connect to the cycle route Kattegattleden, which takes you to Båstad, the summer village wellknown for its tennis tournaments.
Accommodation in a top class hotel close to the sea with free access to swimming pool and gym.

Day 5
The tour ends day 5. Spend the day on the beach or take a cycle tour in
Båstad´s surrounding. If you have rented bikes you can keep them the whole day.
The route follows Kattegattleden on bicycle paths or side roads with little traffic. A bicycle friendly landscape without inconvinient hills with the exception on day 4 wich offers a bit more hilly landscape.
Please note that some smaller parts of the distance remains to be fixed and follows roads with a bit more traffic.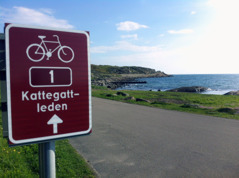 About Kattegattleden
- Sweden´s first national bicycle route, 370 km long, opened and was signed with "no 1" in 2015. A cycle route, almost car-free, close to the ocean, that offers unique scenic and cultural experiences along the route. You will also be exposed to a varied environment as the route passes both countryside and small coastal towns on its way.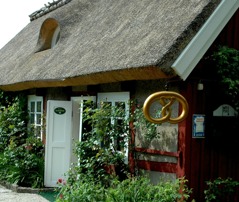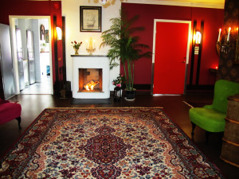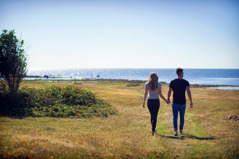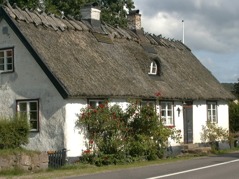 * 4 Overnight stays in double room. 3 nights at top class hotels (day 1, 3 and 4) and 1 night in a cosy hostel with a sink/wash basin in the room but shower and toilet just outside (day 2).
* Sheets, towels and cleaning service
* 4 Breakfast
* 2 two-course dinners, excl. drinks, day 1 and 3
* Luggage transport between all the accommodations, 4 days.
* Maps with route description day by day and information about cafés, restaurants and places to visit along the route.
Reservation for minor modifications that will be informed in advance.

Start day of the tour (day 1)
Thursdays
May 11 - September 21
Prices 2017
- per person in double room
Period 1: SEK 6 300:-
Period 2: SEK 6 600:-

Period 1: Start May 11 - June 15,
August 17 - September 21
Period 2: Start June 15 - August 10

Discounts for children
- meals not included, will be ordered and paid for at every overnight stay.
Up to 5 years in parents bed: 85 %.
6 - 12 years, extra bed in parents room: 70 %.
Additional services
- all prices per person
Single supplement:
Period 1 and 2: SEK 1 300:-

Additional night in Helsingborg Wednesday before start, free access to sauna and gym:
- in double room, including breakfast:
SEK 650:-
including 2-course dinner: SEK 975:-
- in single room, including breakfast:
SEK 1 050:-
including 2-course dinner: SEK 1 450:-

Additional night in accommodation within the tour, please contact Gyllene Turer for prices.

******************
Bike rental, including transport,
5 days, day 1 - 5.
Note that the prices for the bike rental includes transporting the bikes back to Helsingborg. You don´t cycle the same distance twice - new day trips with new experiences every day!

Touring bike, 24 gears, including bike transport: SEK 1 200:-
City bike, 7 gears, including bike transport: SEK 975:-
City bike, 3 gears, including bike transport: SEK 850:-
Electric bike, including bike transport: SEK 1 600:-
Children´s bike, including bike transport: Please contact us for prices.

*****************'
Cancellation fee, SEK 300:- per person. See information, "Book".
Maps and information will be sent to you after final payment, in good time before your arrival. See more "Book", booking/terms and conditions.